Friday, July 07, 2006
Quick, shred the evidence (or CREMATE it)!!!!!!
Hola, bitches!
In keeping with my longstanding tradition of destroying evidence in attempts to get away with massive fraud, the news on the street is that
I am getting cremated
.
This should not be too surprising. As
previously reported here
, nobody who has not been paid off has seen or will see my alleged dead body
before the casket (the empty one) goes into the ground
. Well, I guess the story will be an urn with my theoretical ashes will go in the ground (but those ashes could be anybody's--
if fictional television character Nate Fisher can pull that scam
, why can't I?).
Now that people think I am merely ashes to ashes, dust to dust, I am going to spend some time on my new yacht, boating through some beautiful tropics in the Southern (or Northern) Hemisphere.
Oh, good news: it turns out that now technically
I was never convicted of any crimes
! Not even indicted! There's precedent. Eat it.
And while I make the claim that I am still alive, I will leave open
the possibility that the Bush White House had me killed
. Or that I
committed suicide by inducing a heart attack
(
toxicology reports not expected for three weeks
). But c'mon, I didn't just die, silly.
And what about
Colin Powell winding up in the same hospital as me
? I don't know what it means, but it's fucking weird.
One more thing:
David Letterman is an asshole
. Inappropriate.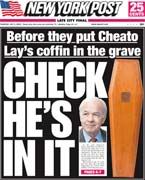 Comments:
What!?! You're
alive
!?!?! Well, you just ruined my day, Ken. I was rather hoping you had finally been sent to your special place in hell, the one designed specifically for you as just deserts for all the thousands of retirees whose life savings you stole, for all the thousands of employees whose livlihoods you destroyed, and for all the millions of Californians you ripped off with those market manipulations and rolling blackouts you staged four years ago.
Post a Comment
Links to this post:
<< Home